If you're planning ahead and buying insurance for a potential long-term care situation, an important thing to consider is if you want a family member or friend to provide care for you. In making this decision, you need to know the difference between an informal and formal caregiver and how the insurance company pays benefits.
Informal vs. Formal Caregiver
An informal caregiver is an unpaid person like a spouse, partner, family member, friend, or neighbor who provides care for you. A formal caregiver is a paid professional who provides care in your home or in a facility. Both informal and formal care providers will help with activities of daily living and/or medical tasks. Activities of daily living include transferring, toileting, bathing, dressing, eating, and continence.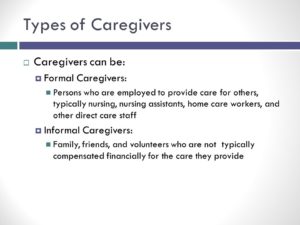 When you buy a long-term care insurance policy, be sure to ask your agent if your policy only pays for formal care or if it includes informal care as well.
Reimbursement vs. Cash Indemnity
Most policies will only pay benefits if you use a formal caregiver and they will reimburse the policyholder for care costs or provide payment directly to the care provider/agency/facility. This is called the reimbursement method. There are a few insurance companies that will provide benefits if you use an informal caregiver. They use the cash indemnity method. Using this method, the insurance company will send you a check for your full monthly benefit even if it's more than your care costs, and then you pay for your care, whether that be to an informal or formal caregiver.
The Bottom Line
Yes, you can pay a family member or friend to provide care for you, but only if the company provides coverage for informal caregivers. If this is important to you, then you should consider a policy that allows for that using the cash indemnity method.